Difficulty: Low – Preparation: 10 min – Cooking: 15 min
Serves 4
700 g of chicken breast | 200 g of Greek yogurt | 15 courgette flowers fresh | 8 light courgettes | Whole wheat flour, to taste | Wheat flour, to taste | A teaspoon of turmeric | Laurel to taste | Extra virgin olive oil olive oil, to taste | Salt and white pepper, to taste | Peanut oil for frying, to taste
1. Cut the chicken into small pieces, let's put it in a bowl and flavor it with turmeric. We add a little bit of soft wheat flour and mix with a spoon.
2. We remove the excess flour and brown the meat in a pan with a drizzle of extra virgin olive oil. When it becomes very crunchy, we add the two bay leaves and flavor with salt and pepper.

3. We add the courgette flowers to the chicken comminuted, mix and add Greek yogurt. We turn off the fire and we turn. We set of flavor, adding salt and pepper.

4. Cut the courgettes into a matchand salt them. Let's put them in a saucer and put it in one bowl, tilted, so that the liquid of vegetation can drain. Let it rest for at least an hour.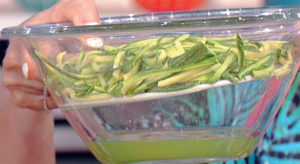 5. When the zucchini will have lost a lot of liquid, let's transfer them on a clean tea towel and dry them well, pat dry With the hands. Let's put them in a bowl and mix them with the two flours.

6. Let them through a sieve to eliminate excess flour. Fry in plenty of peanut oil and we drain the excess grease, putting them down on a sheet of straw paper. We serve zucchini with chicken.