Difficulty Low – Preparation 10 minutes – Cooking 10 minutes
Serves 4
For the cutlets: 4 veal cutlets | 80 g of butter | 100 g of parmesan | 100 g of sliced fontina cheese | Chopped onion | A cup of broth vegetable | A glass of marsala dry | Flour to taste | Salt and Pepper, to taste.
For the side dish: 500 g of green beans boiled | A bunch of grass Chive | A cup of cream | 30 g of butter | A clove of garlic | Salt and Pepper, to taste
1. Cut the grain and fontina a wide and thin slices. After that, we beat every slice of meat to enlarge it and equalize its thickness. Meanwhile, melt the piece of butter in a pan with the chopped onion.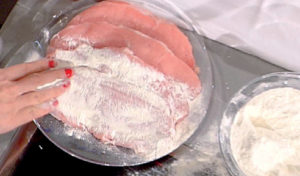 2. When the butter is completely melted and will start to boil, let's lay the meat, previously passed in the flour. After about a couple of minutes turn it over and add the salt.
3. Let the flame down, pour the boiling vegetable broth e we cover each cutlet with slices of cheese. We put the on the pan lid and continue cooking for five minutes.

4. At this point, let's blend in with marsala and, once evaporated alcohol, close the lid and leave go all on the fire again for a minute. Spent this time, the dish is cooked.

5. We blanch the chives, so they will become soft and flexible. Let's use them to pack and tie the boiled green beans to bunches, grouping those of the same length.

6. We arrange the vegetable bunches in a nice tray. Pour the melted butter in a pan and mixed cream, all flavored with a pinch of salt, a pinch of pepper and a clove of garlic.