Difficulty: Low – Preparation: 45 min
Serves 2
For the dough: 200 g of flour | 2 eggs | A pinch of salt
For the endive cream: A head of endive | A thinly sliced potato | Salt to taste | Extra virgin olive oil q.s.
For the stuffing: 200 g of taleggio cheese | A pear | Black pepper to taste
1. Blanch the endive and the potato in water salty. Let's keep some green leaves aside and whisk the rest with the oil. We knead flour, eggs and salt. We roll the dough with the machine to obtain two rectangles.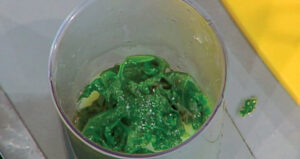 2. Cut the pear and taleggio cheese into cubes and let's flavor them with a puff of pepper. We have
of the filling piles on the first browse and close with the second. We derive the ravioli with the pastry rings.
3. We cook the ravioli in salted water for a few minutes and then dab them with paper kitchen. Let's serve them with the green sauce mirrored on the plate, the leaves of endive set aside and a little pepper.