Difficulty: Low – Preparation: 10 min – Cooking: 10 min
Serves 2
5-6 peppers stuffed with tuna | A can of tuna in oil | A few anchovy fillets in oil | Capers to taste | Chopped chives to taste | Chopped parsley to taste | A spoonful of mayonnaise
To serve: Toasted bread croutons to taste | Chives to taste
1. We put the stuffed peppers in a mixer of tuna, after having drained them from the oil of preserves, together with the tuna in oil, i anchovy fillets and capers. We whisk until a thick cream is obtained.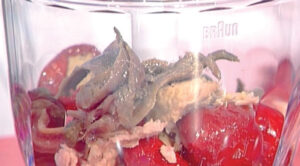 2. We transfer the mousse into a bowl. Add the chives and parsley chopped and a spoonful of mayonnaise. We mix and transfer the sauce in a sac à poche.
3. Let's create spicy mousse spikes directly into the serving dish. We arrange the croutons around it
already toasted, we decorate with chives and we serve.