Preparation: 5 min | Difficulty: Low | Cooking: 10 min
Serves 4
400 g of spaghetti or noodles | 4 rusks | 2 cloves of garlic | 5-6 spoons of extra virgin olive oil a large hot pepper | 4-5 anchovy fillets in oil | A bunch of parsley salt
Spaghetti with crumbs are counted among the "poor dishes" of the Italian tradition, usually made with leftovers of bread or breadcrumbs, in this case, they are replaced with rusks that give a crunchy accent and an even more decisive flavor to the pasta. Few ingredients and few gestures for a very appetizing dish. A fast, time-saving pasta par excellence, which is prepared and brought to the table in less than 15 minutes, giving taste and satiety to lucky diners. "Strong" and spicy, the spaghetti is enriched with anchovies in oil and crunchy crumbs, which complete the dish together with fresh parsley. Simplicity becomes excellence.
1. Wash your chili, dry it carefully, and, with the help of a very sharp knife, cut it into thin slices, saving the seeds. The latter will be invaluable for the preparation of this dish, releasing an even more intense and spicy taste to your spaghetti with crumbs.
2. Use a large pan, insert the freshly sliced ​​red pepper with its precious seeds and the garlic that you have previously peeled and lightly crushed, with the help of a large blade kitchen knife. This operation will serve to release all the most intense flavors of the segments.
3. Add the extra virgin olive oil and anchovy fillets to the pan. Put on the fire and let it cook on a moderate flame for less than a minute. With the help of a wooden spoon, turn the garlic over and break the anchovies. Mix well so that the sauté mixes and releases all its perfume.
4. Meanwhile, crumble the rusks on a cutting board. You can use a knife or a meat mallet. The crumbs must be more or less grainy and not mush. Add them to the sauté. Stir and leave to flavor in the pan for about half a minute, the time to brown slightly.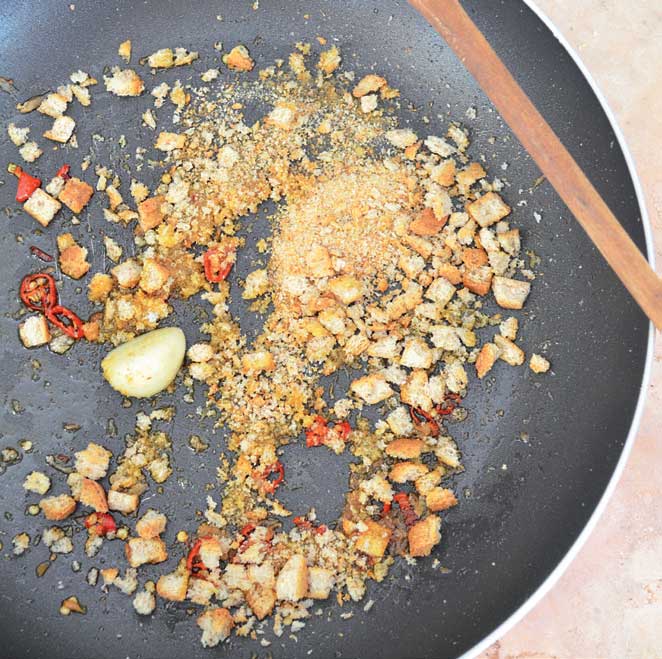 5. In the meantime, wash the parsley, dry it, and chop it with your hands so that the leaves are visible. Add it to the sauté and let it cook for a few seconds, mixing quickly. Turn off the heat and leave the pan aside. Fill a large saucepan with water. Salt and as soon as it comes to a boil, lower your spaghetti.
6. Cook the spaghetti a few minutes al dente. Drain them and put them in the pan with the sauté which in the meantime you have put back on the fire. Turn and sauté, add fresh parsley and, if you want an even more decisive and spicy taste, some slices of fresh chili. Serve hot.