Difficulty: Medium – Preparation:10 min – Cooking:20 min
Serves 2
100 g of rigatoni | 100 g of capocollo | 6 fresh prawns | 2 tablespoons of wine vinegar
red | Extra virgin olive oil,to taste | A shallot | Chopped fresh basil, to taste | 100 g of passata of tomato | Salt and Pepper, to taste | Grated Parmesan cheese, to taste
1. Mince the capocollo and fry it for a few minutes medium heat. Let's add the prawns already washed, peeled and cut into small pieces. Let's blend in the red wine vinegar.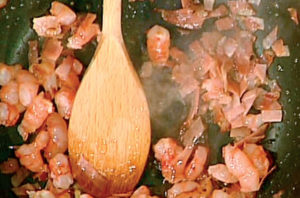 2. Mince the shallot and fry it in oil. Let's add the basil and, later, the contents of the step1 pan We combine the tomato and adjust of salt and pepper.
3. Let the rigatoni rather tooth, drain and go over again in a pan with the dressing. Let them dry and add
still chopped basil and parmesan.