Low difficulty – Preparation 15 minutes – Cooking 20 minutes
Ingredients for 6 people
500 g of penne rigate | 300 g of shelled peas | 150 g of raw ham | 300 g of asparagus | A fresh onion | A burrata | Salt and Pepper, to taste | Vegetable broth, to taste | Grit, to taste | Extra virgin olive oil olive oil, to taste | Butter, to taste
1.We clean the asparagus and dip them in a saucepan with water salty cold. Once on the flame, we count four minutes from the boil, so let's drain them. We separate the tips and cut the stems into rings.

2. We slice the onion and fry it in a pan with a thread oil and peas. We gild everything and, only half the time it takes, add the ham cut into strips. By cooking more, it would become bitter.

3. Pour the broth into the pan and discard onion, we add the stalks of asparagus, a bow of butter, season with salt and pepper and let it go. Five minutes will suffice, then we will finish cooking in the oven.
4.Let the pens in the water boiling salted and drain them a ¾ of cooking. Season them by passing them
quickly in a pan with seasoning and a generous grated of grain.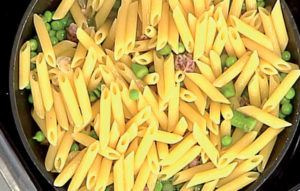 5. We apply a first layer of pasta on the bottom of a baking dish well buttered. We cut the burrata
and make a second layer. We finish by coating with the paste remained.

6. We lay out the asparagus tips and sprinkle still with grain. bake for about ten minutes at 200 degrees. From time to time we check and we take out the pasta when it is well gratinated.