Difficulty: Medium – Preparation: 20 min – Cooking: 10 min
Serves 6
An L of water | A few spoonfuls of sparkling wine | 2 spoonfuls of vinegar balsamic | 400 g of boiled potatoes | A slice of ham cooked 150 g | 200 g of boiled green beans | 200 g of chicken breast boiled | 50 g of gelatine | A boiled carrot Extra virgin olive oil, to taste | Salt and Pepper To Taste | A boiled egg | Mixed salad to serve
For the sauce: 4 spoons of mayonnaise |2 spoons of vinegar balsamic
1. Soften the gelatine in cold water, preferably in a low, rectangular container, so it will stay well. Then let's prepare the pan to melt it, by heating it a liter of water with the addition of sparkling wine and vinegar.

2. I dip the gelatine softened in hot water flavored, and melt it completely. We pour a little liquid on the bottom in a mold with a capacity of about 1.5 liters. Let's make cool and put in the fridge for 20 minutes.

3. Peel the boiled egg and cut it sliced. We slice the long carrot and, with the stencil (or by hand), we cut each slice a drop shape. Each will become then the petal of a flower peel and we also slice the potatoes.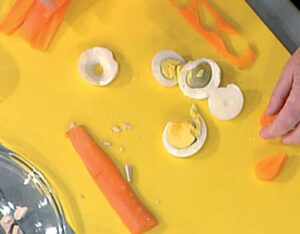 4. Cut the chicken into small pieces and the diced ham. As soon as the jelly will have solidified, let's settle on a slice of egg, surrounding it with slices of carrot, like petals.
5. We form the stem with the green beans of our flower. We play all the decoration with washers of potato, so as to keep the design firm that we made.

6. We add the potatoes on top chicken and ham, le leftover carrots and green beans in pieces. We spray everything well with the melted jelly left in the pot and put the aspic to firm in the fridge.

7. After about two hours, we remove from the fridge the mold and fix it upside down, on a serving plate. Let's put a cloth over it hot, so as to facilitate detachment dell'aspic.

8. We make aspic with mixed salad, seasoned with oil, salt and pepper. Serve it with a sauce composed of flavored mayonnaise with balsamic and diluted vinegar with a little water.