Difficulty: Low – Preparation: 20 min – Cooking: 40 min
Serves 6
A pork loin from about a Kg 300 g of tuna natural | Salt to taste | 2 celery sticks | A carrot | ½ onion | A fragrant bunch composed of laurel, rosemary and parsley
For the cooked mayonnaise: 4 egg yolks | 4 spoons of milk | ½ glass of oil of sunflower seeds | 50 ml of oil extra virgin olive oil | 2 spoons of juice lemon | Salt to taste | Rosemary flowers
and boiled quail eggs to serve
For the avocado sauce: A ripe avocado | Extra virgin olive oil to taste | A pinch of salt | A spoonful of juice lemon
1. Let the carrot and celery into pieces and the onion and let's put them in a pot with about 2 liters of water. We add the herbs gathered in a bunch and tied with string, then we bring to a boil. We climb.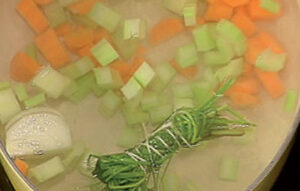 2. As soon as the water boils, add the pork loin. We report to a boil and continue cooking for about 25 minutes. We turn off the fire, cover and let cool the meat in the cooking liquid.

3. Meanwhile, let's boil the eggs, counting 6 minutes since the water starts to boil (joke). We make yolks and put them in the glass of the mixer together with the oil of seeds and olive, a pinch of salt, and lemon juice. We whisk for a few moments.

4. Pour milk, which will help us to thicken the mayonnaise, and we continue to work the ingredients until you get a creamy consistency. We put in the fridge to firm up. We drain the tuna, mix it and add it to the mayonnaise. We place in the fridge.
5. We mix the avocado pulp with lemon juice, a pinch of salt and a drizzle of oil. If needed, let's help with a few tablespoons arista cooking water. Awarded a smooth sauce, let's put it aside.

6. Let's listen to the artist, cut it to thin slices and dip them in the tuna sauce. Let's put them on a serving dish, alternating with the avocado sauce. We garnish with flowers rosemary, boiled quail eggs.