Difficulty: Medium – Preparation: 70 min. + 150 min. leavening
Serves 8
500 g of flour 0 | 100 g of sugar granulated | 80 g of butter | 150 g of milk | 15 g of brewer's yeast | 2 eggs To stuff: 80 g of sugar cane | 80 g of butter | Cinnamon in powder | 50 g of raisins | 3 tbsp of candied orange peel
1. In the mixer with the hook, we knead the flour with it sugar, lukewarm milk with the yeast dissolved in and eggs. When the dough takes consistency, we add butter in bows and let it work still. Let's put the dough obtained in a bowl, covered, and let it rise for 2 hours.

2. For the filling, mix brown sugar with butter soft and a pinch of cinnamon e let's try to get a cream. Let's take the leavened dough again, let's put it on a pastry board floured and divide it into four set off. We roll out the loaves with the rolling pin and we get four discs.

3. We spread the first disc with part of the cream with butter, sprinkle over the candied fruit and raisins and cover with the second disk (fig. a). We do this too in the same way, we cover with the third, we do and we close with the last album. We press lightly with the hands stacked discs.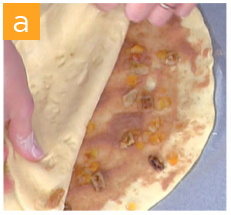 4. We divide the pile of discs in eight wedges, without getting to the center. Every clove let's divide it into three, always without reaching the center, and weave the strips a three by three (fig. b). 5. We disconnect the braids (fig. c) and put them a rays in a greased pan (fig. d). Let's place a in the center greased glass cup e let it rise for 30 minutes (fig. e). We bake in the oven preheated to 170 ° for 40 minutes.