Difficulty Easy – Ready in 60 min.
Serves 8
One egg white and 6 yolks | 7 spoons of sugar | 200 g of butter + to taste for the pan | 7 tablespoons of flour + to taste for the pan | 150 g of sliced ​​almonds | A handful of unpeeled almonds | Icing sugar to taste
For the cream and for serving: A jar of Greek yogurt | 4-5 tablespoons of condensed milk | The juice of half a lemon | A box of blueberries | A bunch of fresh mint
What we need: Electric whisks, bowl, 24 cm round mold
1. Simple simple dough. We whisk the egg yolks and egg whites with the sugar until a frothy mixture is obtained. In a bowl, mix the melted, cold butter and the sifted flour. Mix them with the eggs.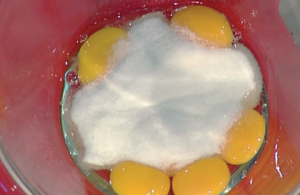 2. The dried fruit. We combine the whole almonds and pour into the buttered and floured pan (the thickness must not exceed two centimeters). We distribute over the sliced ​​almonds and bake for 45 minutes at 160 degrees.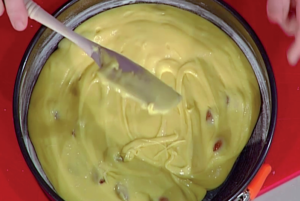 3. In the meantime, the cream. In a bowl, we put yogurt, condensed milk and lemon juice. We mix well. We serve the cake dusted with icing sugar, fresh blueberries, mint and yoghurt cream.
Despite the name, this dessert is typical of Prato. For me it is a real comfort food, perfect to cheer me up