Difficulty Low- Preparation 20 minutes – Cooking 30 minutes
Serves 6
300 g of paccheri | Salt, to taste | Extra virgin olive oil to taste (for the pan);
For the filling: 250 g of hazelnuts shelled | 150 g of gorgonzola sweet | 300 g of cheese soft | 80 g of cream kitchen | 50 g of parmesan grated | Pepper , to taste;
For the dressing: 200 g of gorgonzola sweet | 200 ml of bechamel | 50 g of butter | 50 g of parmesan grated | 20 g of breadcrumbs | Salt and Pepper, To Taste.
1. Let the paccheri in the water salty, for half the time of cooking indicated on the package. Then drain them and let them cool in a bowl.

2. Meanwhile, we chop finely hazelnuts with the robot kitchen and keep them aside. In a saucepan, let's melt cut the gorgonzola over low heat diced, with cheese soft, cream, parmesan and a pinch of pepper. If necessary, we correct of salt.
3. Once the cheeses have been melted, mix them with hazelnuts blend until you get one not too thick filling (if necessary, we add another spoonful of cream). We keep from the mixture starts.
4. We melt the gorgonzola, cut diced, with butter, without bringing it to a boil. We incorporate the bechamel and remove the composed of fire. We add a pinch of salt and pepper.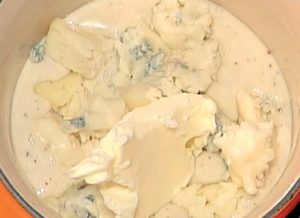 5. Fill a pastry bag with the cheese mixture. Let's make the paccheri and fix them vertically in the pan greased with oil extra virgin olive oil. We spray i paccheri with cheese sauce. We sprinkle with grated parmesan, mixed with breadcrumbs, and bake for 15 minutes at 180 degrees (or until au gratin).