Difficulty Easy – Ready in 20 min.
Serves 2
250 g of paccheri | A fiordilatte | 200 g cherry tomatoes | A clove of garlic | Basil to taste | Salt to taste. | Extra virgin olive oil to taste
What we need: pot, pan
1. The dressing. First, brown the cherry tomatoes cut in half in a pan with extra virgin olive oil, the coarsely chopped basil and a clove of garlic. We regulate salt.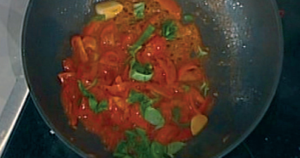 2. Cook them in the sauce. Let's boil the paccheri in salted water and drain them al dente. Let's put them in the pan with a little cooking water and stir. In this way the pasta will bind perfectly to the seasoning.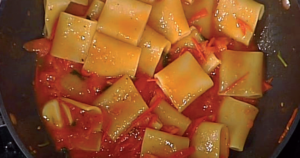 3. Now they spin. When the paccheri are completely cooked, out of the fire we combine the fiordilatte made in strips, mix well and serve, completing with some other cubes of fiordilatte.
"A simple dish in the ingredients and in the realization, but very fresh and with an extraordinary flavor"